The Laughing Couple: Rick and Carolyn Hunt!
As the publisher of ACS Magazine I thoroughly enjoyed writing this story about the Laughing Couple.  I had to stop numerous times editing the article and would break out in laughter. Rick and Carolyn Hunt are sure to bring some joy and laughter into your life!  Isn't that what life is supposed to be about?  So sit back and enjoy this story on the Laughing Couple; it will heal your soul
Meet Rick Hunt  
Rick Hunt was born in Littleton, New Hampshire on a freezing February day with a black eye and urinating on the doctor. Rick attended local schools and was the kid who won most of the poster contests having been drawing since he could hold a crayon.   Rick cousin Butch taught him how to draw Elvis's profile on a large wallpaper sample book his father brought home when he was about four.
Risk said with a smile on his face "In third grade in art class we were asked as a class to draw a vase of flowers that the teacher had placed in front of the classroom.  I drew the Beatles instead and was taken to task by the teacher who held up my drawing and exclaimed, "You will NEVER get anywhere doing this!!" Since then, Rick has done the cover art for three (3) albums by the Beatles related group, the Birds of Paradox who boasts band members from Paul's WINGS and John's Elephant Memory Band!
When Rick was around twelve (12) he was taken to Provincetown, Massachusetts by a family friend who was a painter. She brought Rick to studios and galleries and even visited Robert Motherwell! Later on, Rick overheard his mother talking to his aunt on the phone stating "All Rick wants to do is wear sandals and grow a beard! I fear that he is going to become one of those Provincetown weirdo's!!"  Rick says "Voila!! Look at me now!!"
In his teens Rick started carrying art supplies and a sketchbook everywhere he went.  Rick would sit in fields and barns to draw and would hitch hike everywhere drawing for a sandwich or a couch to crash on. In short, he became a serious vagabond artist.  It was in the school library in 6th grade (fresh-out-of-college librarian; whose name Rick really wish he remembered), who knew that he had a serious interest in art.  The school librarian gifted Rick with her art history textbook that was about five (5) inches thick and full of photos by classical and modern artists. Rick literally carried that book everywhere under his arm and even in gym class!! A very fortunate thing happened to Rick when he was fifteen (15) years old.  The professor of art at local Franconia College took Rick under his wing by assigning Rick books to read, projects to do, every Saturday morning in his exotic pipe tobacco smelling studio! Kenneth Westhaver (a world renowned painter and printmaker) soon started having Rick in his classes at the college.
Rick was the youngest student there and was enrolled in figure drawing classes. Where as a young teen boy he would hide his embarrassment by sketching duck bills on the models faces.  Rick also attended Massachusetts College of Art in Boston, Mass for illustration and painting.  Rick started showing his work in shows, galleries, and museums.  Rick has devoted his entire life thus far to the process of creativity and he feels he is blessed for it. Besides being Rock icon Angie Bowie's partner-in-art-crime (David Bowie's ex-wife), publishing books and co-hosting Angie Bowie's weekly radio program, Rick is also the visual component of Laughing Couple. The Laughing Couple consist of his wife Carolyn and Rick performing storytelling all over New England, ,New York, New Jersey and beyond!
Meet Carolyn Hunt
Carolyn Hunt being the oldest of eight children (between both parents) it was her responsibility to keep the younger siblings "occupied". This was easy as her mother, RoseAnne, being an avid reader herself, always had books for the children In addition, the siblings all had their own library cards which they dutifully used weekly. They were each allowed five (5) books per week. Each weeknight before bedtime, RoseAnne read one book from each of them. Saturdays the children stayed "up late" and went for ice cream. Sundays were their "day off".
It was not long before Carolyn's my reading skills surpassed her age group. When Carolyn's Great Aunt Dot learned of this, she immediately became her pen-palwriting her every other week. The Great Aunt did her the tremendous favor of writing to her as if she were an adult. Her Great Aunt also provided Carolyn with a dictionary to look up the words she did not understand. Carolyn was then expected to use that word(s) in her return letter, with proper application.
Further, Carolyn read through the entire contents of their small local library pretty quickly. One day, as I Carolyn was scouring the lower shelves way back in the far corner when she happened upon a small, very old looking book. It is title was simply Glooscap Stories, she checked it out and brought it home.
Being of Western Abenaki ancestry, these stories resonated with something deep inside of Carolyn. This dusty, worn relic of a book got Carolyn onto a trail of searching for stories related to her ancestral bloodlines. It was these stories that would later lead Carolyn onto the path of becoming Laughing Couple with her husband (Rick Hunt), years later.
Rick and Carolyn were into their second year together. Rick was firekeeping at a local powwow. That same weekend, Carolyn's step-son was away at band camp and it was really their first opportunity to just be the two of them. Or so they thought. Upon arriving and setting up our camp. Three young boys, being sons of some vendors, sought them out.  What prompted this Carolyn will never know. The following morning, two more pre-teen boys had found them and they all became "ours" for the weekend. Needless to say, there was lots of chatter and laughing happening.
Carolyn shares "One boy in particular took a strong shine to us and us to him. This boy, Joey, when asked by his mother about his whereabouts, pointed towards the Sacred Fire and said "over there with that laughing couple." Later that evening, Joey's mother came over to meet us and to make certain we had no nefarious plans for her son. This is how we learned that we had been named "that laughing couple" by Joey."
To that date Rick and Carolyn have sporadically been doing their storytelling throughout the state. Soon, without any real effort on their parts, the requests began coming in more frequently. Several months later, they decided that maybe it was time to take their storytelling more seriously. It was time to come up with a name for themselves. So, Rick and Carolyn sat down at the kitchen table with a notepad. Not one single name that they came up with seemed to be a good fit. After a little more than an hour, Carolyn hesitantly suggested to Rick that maybe they should just use the name they had already been given. Rick sat back in his chair and said "I was just thinking the very same thing." Hence the Laughing Couple was born.
Carolyn does not really feel that they have been "branded" per say. She thinks that, as time passed and Laughing Couple became more well-known, that the title of Native Storyteller manifested on its own. Further, Carolyn considers herself to be more of a story "sharer" than a teller.  Carolyn feels that this approach is much more user friendly and encourages people to become part of the performance.
Carolyn always allow, when time permits, extra time after their presentation for a Q&A session afterwards. Regardless of where they present, or the age of their audience, people always want to come up to them afterwards. Rick and Carolyn always receive plenty of questions about Rick's artwork, their regalia, the stories they share and how they integrate being "Native" into a "modern" lifestyle.
Rick and Carolyn are also nearly always approached by someone who, themselves, has Native ancestry. Very often, in approaching us, it is the first time their "blood" has been spoke of out loud.
Rick and Carolyn believe it is through their active sharing, rather than a passive telling, that draws people in to them that allows them the ability to own who they really are in an open and non-judgmental atmosphere.
Tell us about your artistic process for creating your body of works. Tell us much time to you spend in the studio.
Carolyn shares "Even prior to having met Rick, I collected whatever books I could find on Native American lore and history. With the advent of Laughing Couple, we have turned our focus more to the stories and culture of the Peoples of the American North East."
Carolyn always begin by writing out a story she wishes to add, edit and refine it until it feels right. Then she begins working on its timing, with more editing. Once its time length has been settled, Carolyn begins her rehearsals. Only when Carolyn feels fully comfortable with a story do they add it to our repertoire."
Rick adds "I rise anywhere between 3:00 a.m. to 5:00a.m. to slurp down one cup of coffee and to start drawing. It is no exaggeration to say that I literally spend any free moment to draw and create. I do not watch television and few movies. I spend my time listening to music and drawing at my corner living room computer desk, which gives me roughly a space about two (2) feet by two (2) feet to work my magic on.  This is not how I go about doing larger pieces and paintings. For that I use a larger space where I can leave out art supplies. (What I need is a barn!)"
Rick gathers his inspiration from myriad places (Music, dreams, life experience, etc.). His favorite subject matter is drawing people because no two is alike. Rick loves the changing postures and facial expressions. He is a people-watcher. When he is creating the four (4) foot by eight (8) foot spontaneous murals at Laughing Couple events, it takes roughly an hour to produce the images for the traditional stories that Carolyn shares. Carolyn can tell the same story seventy-five times and each time, the mural is drawn differently. Rick is a very visual person so all it takes is hearing one word to conjure a movie reel rolling in his head. Ironically, Rick is a guy who would rather create images rather than talk about them.
Your noted for performances and live drawings. Tell us about that process and experience. 
Carolyn says "Like theater or movies, people always enjoy a "good show". Not only are our stories shared in a way that invites everyone in, Rick's artwork is a huge draw for people (no pun intended Ha!). Many people never get to see the creative process in action. All they ever experience is the finished artwork. Watching Rick draw as the story unfolds has an almost hypnotic effect on people. It is not uncommon to see audience members sitting forward in their seats, their mouths literally hanging open, eyes glued to Rick's dancing marker."
Rick shares "What I hope people get from watching a Laughing Couple performance is inspiration to be creative themselves, entertainment, and educational information. Carolyn and I view ourselves as "ambassadors" for our people and culture so that they will hopefully leave a performance knowing more about Native culture, (In our case northeast woodland Algonquian/ Abenaki). I want to inspire people with excitement about finding and using their own creative power to enhance daily life, so they can explore their own stories and culture."
Tell us about why you launched your rich creative arts and cultural programs. 
Carolyn says "The performances and live drawings it is very much like theater. Rehearsals, regalia, accoutrements, the mural wall being set up, testing the microphone and speakers, and lighting. I then set out my clock in a discrete location and the 'show" begins. But I am only half of what goes on. I am the road crew and the audio to Rick's performance. I rarely get looked at during the show. Afterwards, it is Rick's autograph the children seek out, Rick's applause when he is finished and announces that they mural now belongs to them. In the event our sponsor can't keep the mural, it is a free for all when we announce the drawing needs a good home. But I don't mind. He deserves to shine and I am glad to compliment what he does. He's the Rock Star. However, oddly, it is me they come to when they want to talk Indian stuff".
Rick continues "One of the best experiences we have had as Laughing Couple happened at the Abbe Museum in Bar Harbor, Maine when we were presenting a, Dancing With The Pen workshop. The museum had quickly filled up the morning session and there were still people calling in to attend so they asked us to do an afternoon session as well The ages that we were presenting to were six (6) to twelve (12). However, a middle-aged woman called the museum asking if she could PLEASE attend the workshop. We thought why not, after all the workshop is designed to inspire people's creativity, to draw, listen to music, and have some fun! So, we invited this woman to attend. Attendees were encouraged to play while drawing and to create in the spaces on their paper whatever the spontaneous shapes brought to mind. I wandered over to the table where the woman was and witnessed the most wonderful display of beautiful and unique artistry! I was spellbound by what she was creating and witnessed to her that she was quite talented and encouraged her to pursue her art, which had been continually put down by her family as "silliness". No one around her had ever acknowledged her talent or the fact that she was indeed a real, artist! By simply acknowledging her talent and encouraging her to continue, this woman seemingly sprouted butterfly wings and a huge smile! We later heard that she was flying on her own pursuing her art. Sometimes all it takes is affirmation of one's talent and a little encouragement and acknowledgement to give them the permission they seek to create. It is experiences such as this that affirms what the Laughing Couple is attempting to accomplish in our mission which is to simply inspire folks to be creative."
Tell us the significance of arts education programs.
Carolyn
Well, the stories Rick and Carolyn share have existed for centuries. Carolyn says "They were the schooling that native children had. Each story carries more than one message within it. They teach us how to not be in the world. They are the guidelines to living life in the proper way. Thus, the stories are a very integral part of the overall Abenaki culture and identity."
With more awareness now being given to Native Peoples nationwide, there is a deepening interest in who Rick and Carolyn are as a people and how they fit into the dominant culture. What Rick and Carolyn offer falls snuggly into these categories. However, Carolyn thinks that what makes them really stand out as a way of connecting to the Native culture is their open and playful approach. Rick and Carolyn are not the typical "stoic indian" giving a lifeless lecture. Rick and Carolyn blend their past and present together in a way that encourages inclusion and a sense of connecting with another peoples' way of being. When people feel connected in with Rick's and Carolyn's presentations, they remember it in greater detail and for longer periods than a lecture approach allows.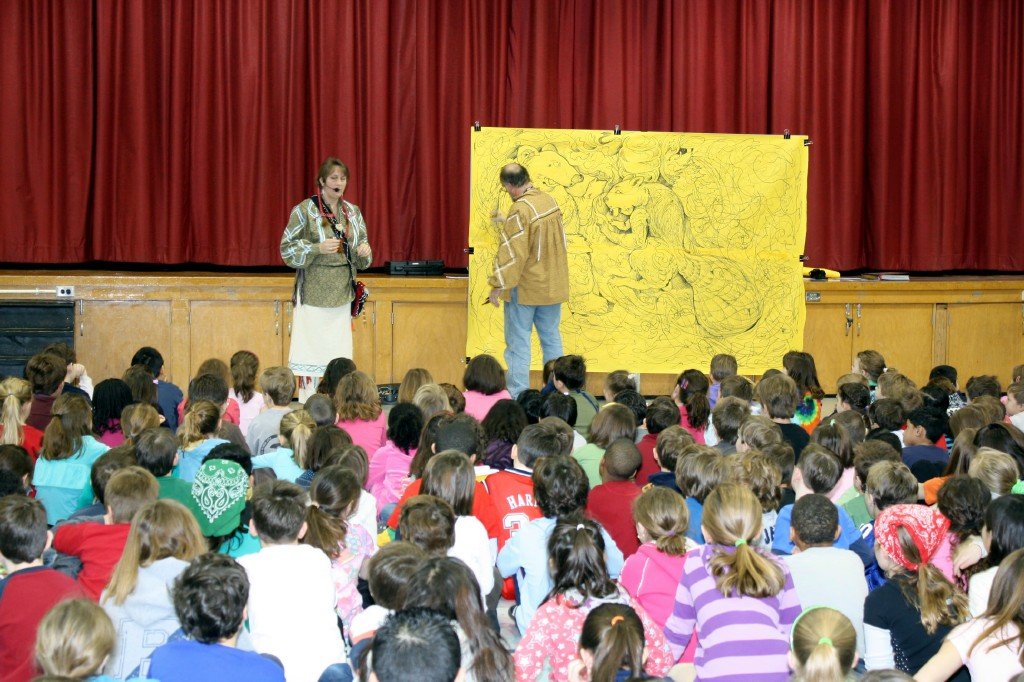 Rick shares "I believe that a creative outlet is important for everyone to grow as a whole person. Creativity is a way to problem-solve, a way to think, a way to be. Without creativity or the Arts humankind would have never evolved. Creative Arts/Cultural programs are important to help maintain a person's balance. I have come to this belief from my own experiences with art my entire life. I can say with conviction that with creativity and the Arts I know for a fact I would have not survived as a living entity. Art can mean so much to different people. Creating evolves the soul by showing that there is no box to be outside of. Creativity can be used as therapy, both personally and for others. Art is indeed a language, a way to communicate with the outside world and start dialogues about important life issues. art can continue the links that are part and parcel of cultures. It can create NEW cultures. It can let individuals be heard. We all know that Art can be decorative (but some of the best you might not want hanging over your sofa). Art programs are important in the educational system. Art encourages individual free-thinking and this is probably one reason that some educational systems are not invested in the Arts. It is because I believe in the positive power of creativity and experience it daily myself. I am a firm believer in encouraging and fostering creativity in any form."
Tell us how arts awareness programs can be beneficial to society and make a significant impact. Tell us about which one of your programs has made the greatest impact.
Many of Rick and Carolyn venues rely heavily upon educational and/or cultural grants to be able to invite them in to share with them. Between Rick's murals and the historical/cultural aspect of the stories themselves, Rick and Carolyn are able to fit into more than one peg hole. This versatility allows them into schools and other venues that would not be open to either one of them were they acting independently of one another. Without these programs, Rick and Carolyn have no audience. Further, the children, the next generation coming up, is then deprived of the opportunity to experience alternative cultures thereby growing into adults with more narrowed, less educated ideas about those cultures, sometimes to the very detriment of that culture's survival.
What Rick and Carolyn have accomplished as the Laughing Couple in the community (schools, colleges, and at cultural events) demonstrates to people that their Native culture still exists and are vibrant. Rick and Carolyn have inspired others to explore their own cultures and history by simply being out there sharing their history. Rick and Carolyn have been told numerous individuals who have seen their public performances. They always chat with their audience after shows. Rick says "It is in fact, one of the things that I enjoy about sharing what we do with others. I prefer having, "friends" rather than to "fans". We present as our authentic selves and not as an "act". By our performances we advocate for others by the sharing of traditional stories and by encouraging other artists to find their own channels of expression and to share with other. Carolyn always reminds our audience that if they share the story with others that they too become storytellers.  Personally I have advocated for the Arts in my hometown area by having been a board member for a local Arts school for five (5) years (The Littleton Studio School)."
Rick and Carolyn always advocate in any way they can for the Arts and Cultural Programs. We offer free advertising of these venues on their Facebook age and website Rick and Carolyn network within and outside of their Native community. They are always seeking ways of promoting other native peoples in any way they can, making introductions within their network as each need arises.
Rick and Carolyn feel extremely fortunate to have been able to be the Laughing Couple over the last several years. By the standards accorded in our culture, they believe it is their human obligation, not only to the artisan but to the greater American community, to help others as much as they are possible.
What's your advice for emerging artist considering the changing landscape of the art world?
Carolyn "I don't feel as though it really is in our very nature to "advise" emerging artisans. We will do all we can to help them along their path, more often than not by simply sharing our experiences and what we have encountered along the way. We encourage them to think outside the box and assist in their being more objective to what avenues lie before them. Like snowflakes, every person's path is their own. Their experiences are exclusively theirs. I feel that we simply teach by doing."
Rick continues "My advice to any person in the arts is just, keep on doing what you are doing. Don't compare your work to other artists. Appreciate what others do and accomplish. If you love what you do and put love into your creations, I have found that there are others who will love it too. I have seen art that young children have done and have thought to myself, Dang! I wish I had thought to draw the moon that way!" Also, attempt to exercise your artistic eye. Carry a camera around and take pics of random things that catch your eye (the angle of a building, shadows, colors, shapes, perspective, subject matter). Pretend that you just landed on this planet. Look at things with new eyes. What are those little rectangles on the hillside? You will notice that trees are not shaped the same way. Look at things through the eyes of a child. Show your art when you can. Don't become insulted or disappointed if someone isn't into your Art. you will find others who are. Be ready to take on a "Joe job" if necessary to support your art supply habit.  Befriend other artists. become part of your local Arts community. Be open to collaboration with other artists.
The benefits of Arts and/or Cultural Awareness programs cannot be stressed enough. Carolyn feels that "They are critical to the future of our Nation, Native and dominant both. When a child, or even an adult, lives in a world with no experiences of a way of life that differs from their own, they will believe that their way of life, their culture as it were, is the only and best option, period. Our programs allow the mind to broaden, to be open to alternatives, to see beyond the status quo.  The greater the assortment of exposure to other cultures a child can be exposed to, and participate in, the greater their ability to discern, to integrate, to seek alternatives, to compromise, to explore and to accept."
She continues "It is like a horse wearing blinders. It can only see what is directly in front of it as long as it is no closer than three (3) feet. This is an extremely narrow view for an animal that needs to turn its head to see you better. Their view range is reduced to a very small percentage of their natural range. A horse with blinders on it nearly blind to everything outside of this tiny, narrow view. Now, remove those blinders from that horse. What does it experience? Well, it's line of sight goes from roughly ten (10) degrees to nearly 160 degrees.  It can see ahead of itself all the way around to behind itself. It is free to turn its head so that it can see you more clearly. It can more clearly see what is coming up to it, determine if it is good or bad and it can then act accordingly. A horse, free of blinders, sees the whole world. As such, it is a happier, more relaxed animal than it is with its view of the variances of the world cut off. "
Carolyn says "In general, the more a child can experience other ways of being, the more empathetic, compassionate and understanding they will be as adults. As for adults, the stories are a gentle way to introduce alternatives in a non-threatening way.  From our own experiences, we often are approached by children and adults alike, who reveal that they have an ancestor of native blood. They are always, without fail, surprised when we respond "That makes you a Native too". We've also experiences people who come up to us and, sometimes in an almost apologetic way, tell us that they are Native. For many, this self-identity has been closely kept to the shadows from one generation to the next."
Carolyn illustrates  "we had just finished a presentation at a senior center. Afterwards, we were approached by a woman in her nineties who had native blood. She told us that, not only had our presentation, but our very presence dressed in our regalia, encouraged her to say, out loud, for the very first time in her life "I am Native". By simply being ourselves, doing what we love best we have inadvertently created a space where people feel safe enough to claim their own heritage.  Sometimes it is with great pride, sometimes with hesitancy, sometimes even a little fear.  By removing their mindset from either/or or black/white, we are the conduit through which they can see all of the myriad shades of grey that make up this world we all live in. Rick and I always feel humbled and honored when someone shares their story with us. It doesn't get any better than this."
Rick states "I think art awareness programs are beneficial to society if for no other reason than that we need a lot less violence in our world. Allowing people to create and become artists of any kind helps to raise individual consciousness about the beauty and wonder that is in our world and our relationship to it. It reminds people that our home, "Mother Earth", needs to be taken care of and saved! Part of Laughing Couple's "mission", as I see it, is to hopefully raise peoples' consciousness about one's own place in society, in the world, and ultimately, one's own life. This might sound like a lofty goal, but today we need to think big. Every action, word, and even thought, influences how we are in the world and even to how other's view us. Art teaches an appreciation for life!" Rick says "that has been my experience."
Tell us about some of your exciting upcoming projects.
Caroyln Future Endeavors – "In regards to future endeavors with the Laughing Couple, well…..it is always in flux.  So much depends upon our venues being able to secure funds to have us. If money were no object, we'd be living on the road."
In recent years, we have seen several of our venues vanish due to lack of funding. This, in addition to roster rotations, keeps us on the ocean's swells. But currently, we have several programs penciled in as well as independent projects we are working on, involved with.
"We have also expanded our offerings to better compete in a growing market with shrinking funds. In our line of work, specialization can be fatal. Diversity will keep us alive."
"In addition to creating his fabulous murals, Rick also offers workshops in experiential drawing, called Dancing With Pen. With this alternative, children and adults alike are encouraged to step out of their artistic comfort zones. A wide assortment of music is incorporated into these workshops. Afterwards each student is called up by name to discuss what they have created and what it means to them to utilize broader parameters."
As for Carolyn, she has begun offering historic/cultural talks about the Peoples of the Northeast region. Artifacts and other items are always out on display and are available for touching and handling. This tactile experience to Carolyn casual lectures is, what she has noticed, the key link to the student being part of the story rather than just being a passive listener.
Rick finishes by saying "Besides being half of the Laughing Couple duo, as a visual artist I am working with the amazing Angie Bowie on a number of projects now and also for the future. Angie and I have become a Creative Duo in and of ourselves. We have published two books that she wrote and I illustrated (Cat' Astrophe and Fancy Footwork). We have a number of book projects in various stages of completion. In conjunction with producing books, as of the date of this writing we have had fifty-nine shows on the Angie Bowie and Rick Hunt Blog Talk Radio Show. We use the show as a forum to highlight artists, musicians, writers, and other people in or associated with the Arts. Thus, another way to promote the arts community. This winter I will be creating a minimum of twenty-five large paintings that are intended for exhibits in New York City and London along with Ms. Bowie. I continue to create album cover art for musicians."
The laughing couple Rick and Carolyn Hunt fascinating story appeared in the ACS Magazine January/February 2016 issue at http://emagazine.acs-mag.com/acs-magazine-jan-feb-issue-2016/page/14-15.
Renée LaVerné Rose (Publisher & Editor-in-Chief) To view any previous digital magazines or the latest issue and sign-up to get emails on new, special editions and news updates visithttp://www.acs-mag.com